During the COVID-19 social isolation our bars are shut down, so we can't go to the bars like Nellie's, Port Bar, or The Detour for trivia. So I'm hosting trivia on Zoom!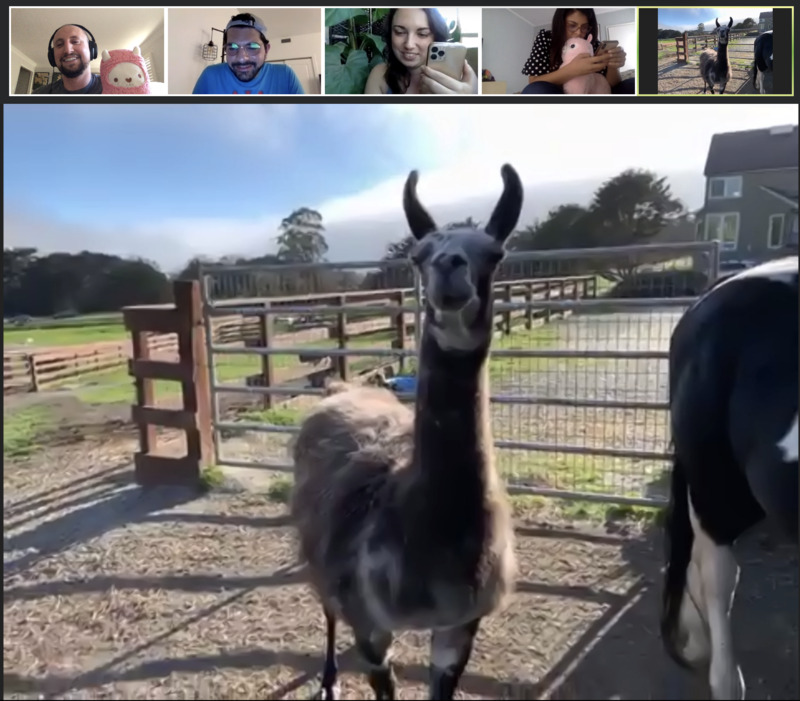 Week 5, Paco the llama made a guest appearance via Goat 2 Meeting
Join us!
Sign up with your email and we'll send you the Zoom link each month. Everybody everywhere is welcome to join!
Each Week
Trivia happens Second Wednesday of the month at 5:30pm Pacific (8:30pm Eastern), and it lasts roughly 1.5 hours
Zoom Link and Google Calendar invite are sent out the prior Sunday
5 rounds of about 10 questions each

Usually includes a music round and a picture handout round
Guest hosts welcome! Contact me below to get in touch about guest hosting a round

Optional $5 donation per person

The winning team decides where we donate the pool to
We strongly encourage picking organizations that help people affected by COVID-19 like the SF Queer Nightlife Fund. More recently, we've picked organizations focused on social and racial justice, the full list of organizations we've donated to is below.

Teams

Can have up to 8 people
Register a team by adding your team to the spreadsheet every week
Past Trivia Nights
May 12, 2021
"Harry Potter and the Return to the Before Times" won, donated $205 to Khalsa Aid USA
April 14, 2021
"The Doritos" won, donated $100 to be rolled over into the next trivia
March 10, 2021
February 10, 2021
"Bob Loblaw Castor (seeks justice for Tswizzle)" won, donated $800 to Campaign Zero ($200 from the pool + $600 matched)
Guest rounds hosted by Amanda and Jessica
January 13, 2021
"Peachy Impeachers 🍑" won, donated $810 to The HIT Living Foundation ($135 from the pool + $675 matched)
Guest rounds hosted by Lindsay
December 9, 2020
October 7, 2020
"Harry Potter and the Best COVID Trivia Host" won, donated $280 to Planned Parenthood ($140 from the pool + $140 matched)
September 30, 2020(Jeopardy theme week)
"Harry Potter and what ARE frogs?" and "Would you just shut up?" won, donated $680 to SF-Marin Food Bank ($170 from the pool + $510 matched)
Guest rounds hosted by Mandy
September 23, 2020
September 16, 2020
September 9, 2020
"Harry Potter and the 'gift' of life" won, donated $540 to Planned Parenthood ($135 from the pool + $405 matched)
Guest rounds hosted by Kris and Nick
September 2, 2020
August 26, 2020
"The best is yet to…cum" won, donated $680 to ACLU of Wisconsin ($170 from the pool + $510 matched)
Guest rounds hosted by Melissa and Jackson
August 19, 2020
August 12, 2020(Are You Smarter than a Fifth Grader theme week)
"WAP: Witty Ass Pre-teens" won, donated $820 to Black Women Build Baltimore ($205 from the pool + $615 matched)
Guest rounds hosted by Amanda and Ethan
August 5, 2020
"Harry Potter and You Can't Have a Second Wave if You Don't Stop the First Wave" won, donated $120 to Lebanese Red Cross
Guest rounds hosted by Megan and Lauren
July 29, 2020
"Harry Potter and the Never Ending Mishegas" won, donated $620 to Center for Black Equity ($155 from the pool + $465 matched)
Guest rounds hosted by Jerry and Melinda
July 22, 2020(Jeopardy theme week)
"Le Tits Now" won, donated $500 to Campaign Zero ($125 from the pool + $375 matched)
July 15, 2020
July 8, 2020
"Coronantined Girl Summer" won, donated $820 to The Innocence Project ($205 from the pool + $615 matched)
Guest rounds hosted by Lindsay and Jackson
July 1, 2020
June 24, 2020(Mean Girls theme week)
June 17, 2020
"DC Homos" won, donated $504 to The Okra Project ($126 from the pool + $378 matched)
Guest rounds hosted by Ethan and Jackson
June 10, 2020
"Third Eye Finishers" won, donated $1,416 to Equal Justice Initiative ($236 from the pool + $1,180 matched)
Guest rounds hosted by Amanda and Melissa
June 3, 2020
"Work in Progress" won, donated $340 to NAACP Legal Defense Fund ($170 from the pool + $170 matched)
Guest rounds hosted by Alison
May 27, 2020(Legally Blonde theme week)
"Harry Potter and the Truly Heinous Angora Sweater" won, donated $200 to CATS (Care About The Strays)
Guest rounds hosted by Lindsay and Nicki
May 20, 2020
"Harry Potter and the Elders Dying for the Economy" won, donated $160 to East Bay SPCA
Guest rounds hosted by Tamara and Meghan
May 13, 2020(Zoolander theme week)
"Swimsuit Models" won, donated $290 to Saving Face
Guest rounds hosted by Kris
May 6, 2020
April 29, 2020
April 22, 2020
April 15, 2020
"East Bay Lesbros" won, donated $250 to SF Oasis
Guest rounds hosted by Alec and Hentyle
April 8, 2020
April 1, 2020
"Coronantined Girl Summer" won, donated $130 to Casa Ruby
Guest rounds hosted by Meghan
March 25, 2020
"Coronantined Girl Summer" won, donated $200 to Miriam's Kitchen
Guest rounds hosted by Gian
Questions
Got any questions? Just reverse and email me: moc.liamg@silogrambz